FAQ
Payment Plans
Payment plans are available to purchase your furniture. We offer financing through Affirm.
You must apply and be approved by either of those companies to take advantage of those offers.
If you do not want to finance your order and do not wish to pay the entire balance upon order you can also pay 1/2 down and the balance when it is ready to ship. You must call us at 800-737-7702 if you would like to use this option.
If you are looking to make monthly payments, please call us and we will do our best to work out a payment plan with you.
Leather Grades
Grades usually refer to finishes, not quality and are therefore pricing grades and not quality grades. There is no difference in quality of our leathers as these are all 100% top grain leathers which is the highest quality available for leather furniture. Grades refer to different finishes so they are very similar to a quality paint that comes in flat, semi-gloss and satin. The quality of all three are the same but the price is different for each due to the processes and chemicals needed to achieve that finish. Grades in these leathers are the same

Believe it or not, there is actually no standard grading system for leather. Yes, when you go into a store they will explain to you an A,B,C,D type of grading or a 1,2,3,4, etc.. system. However, if you go to the most expensive store in town who tells you they have an ABC type of grading and the cheapest store also has these same grades, obviously something is wrong.

The answer is that each store or manufacturer sets their own system based on the leather they are using. This helps you choose but only between the leathers they offer. If their best leather is still an inferior grade, you won't know. With our furniture (unless noted as a leather match in the product info tab), we use ONLY 100% full top grain leathers.
Top
If my furniture is 100% leather, why is there fabric on the bottom of my cushion?
Very simple: If there were leather on all sides of the cushion, the air inside would not be able to escape when you sat down on it and thus it would be like sitting on a balloon. Also, leather is a material with very little resistance and so if the bottom of your cushion is leather also, every time you sit down on it, it will slip and you would find yourself stuck between the back cushion and seat cushion. While some of our seat cushions are removable, others are attached directly to the sofa. Top
How long for shipping?
Each of our sets has a different shipping time. It can be 2 to 4 weeks, 10 to 12 weeks, 12 to 16 weeks, 18 to 22 weeks, 19 to 23 weeks, 26 to 32 weeks, and 29 to 35 weeks. There are a few of our sets that will ship within 2 to 4 weeks, those sets are warehoused in only 1 color. Most of our furniture is made to order - which means we don't start making it until you pick your style and leather. The reason things are taking so long right now is due to raw material and container shortages. The raw material shortages have slowed most of our US factories to a crawl. The lack of containers to transport goods to the USA from abroad has also delayed normal transportation times. We truly appreciate your business and do our best to quote an accurate production ship-time as possible.
Please check Shipping Information for each collection on the shipping info tab in product description. Top
Can the set be broken up or additional pieces added on?
Yes, we can do that. Call us at 1-800-737-7702 and we can help get you the best price for your special order.Top
Is there sales tax?
Unless your furniture is being shipped to Florida, there is no sales tax. Florida deliveries do have to pay 7% sales tax on the furniture but no tax on the shipping.Top
Will this fit through my door?
If your door is 35" or wider, yes! We ship our furniture without the legs for this very purpose. If your door is less than 35" wide, call us @ 1-800-737-7702 and we can help determine if you'll need to consider other options.Top
Will the furniture be delivered to my home or to a distribution center?
Your furniture will be shipped directly into your home.Top
How do you sell such high quality furniture at these prices?
Well it is very simple we sell so much furniture we get huge discounts from manufacturers and leather suppliers which we then pass on to you. Most of our furniture is made to order so it is not started until you place your order. This allows us to cut inventory costs and pass those savings on to you.Top
Is White Glove delivery available?
In most cases, YES! For $150, we can upgrade you to White Glove service. With White Glove, they will bring it into the room of your choice and remove all of the packing materials from your home. White Glove includes up to one flight of stairs and package removal. Any additional services may have additional costs.
White Glove delivery will extend the amount of time to arrive to you. The national average takes 13 days from the time the shipping company picks up your furniture. Sometimes they are a little faster and sometimes a little slower but rarely does it exceed 3 weeks from time of pickup.Top
Is the price so low because this is damaged furniture or is there something wrong with it?
Absolutely not! All of our furniture is brand new and has no defects and is subject to our manufacturer's warranty. Since most of the furniture we sell is made to order, meaning it is not started until you place your order it is all brand new and defect free.Top
Can I track my shipment?
Definitely. Call us at 1-800-737-7702 and press option 3 for Tracking. This department is open Mon-Fri from 10 am to 5 pm. All we will need is your name to give you a tracking number and a number to contact so that you can follow your shipment.Top
Is there a store in my area where I can see the furniture?
Regrettably, since we use the Internet as a way to clear out excess inventory at wholesale, we have an agreement with our retailers to not disclose their names and send consumers into their stores who can turn around and purchase for the same price the receive it. Obviously, that wouldn't be fair to them. That said, we strongly encourage you to check out our testimonials to see what people who have received our furniture have said about the quality and service they have received.Top
What happens if something is damaged?
We include insurance on every freight quote. One advantage this gives you is that they will call you 24 hrs in advance to schedule a delivery time since they will need you to be there to sign for it. We do this not because we are expecting damage but because it can happen. We are very fortunate to have a less than 1% damage rate. In the event that a piece does get damaged, it is very easy to take care of. When the furniture arrives, be sure to inspect it before you sign for it. This is especially true if you notice any damage to the packaging. In the event there is damage, follow these four simple steps:
Don't panic; it's insured.
Keep all of the good pieces.
With the driver still there, call us at 1-800-737-7702 option 3 and

we will help you determine if the damaged piece should be kept with you or sent back.

Sign the Bill Of Lading, making sure to notate the specific damage. State only the facts of the damage.
It is very important that you follow these steps so that we can give you the highest level of customer service. Delivery companies are very reluctant to help once you have signed for it due to the fact that there are people who try and take advantage of them by claiming that damage they inflict to the furniture sometimes weeks after they received it came that way. Helpful hint: The two biggest clues that there may be something wrong: a) the box is damaged or b) the driver tells you he is too busy or doesn't have to let you inspect it. (This probably means that he did it and is trying to get out of there before you figure it out.) Again, damage is very rare but we'd like you know what to do just in case.
In the rare event that there is hidden damage that isn't seen until after the driver leaves, please contact us within 24 hours of delivery to report it. Most delivery companies have a 48 hour window to report hidden damage so it is important that we follow their guidelines.Top
How can I buy this if I don't sit on it?
We are asked this question at least once a day and we do understand. Three thoughts that may be helpful:
Our pictures are exceptionally accurate if you have a good monitor.
Please request a free sample of the leather from us. This is always the best way to make sure you will get what you are ordering. While dye lots with leather can always vary, a sample is the best way to make sure you are getting what you want.
Please check out what other customers have said once they've received our furniture. As you may be aware, they are not required to leave us feedback. Customers have only done so due to their appreciation for how high the quality of our hand made furniture is.
Top
What happens if I cancel or want to return my furniture?
In the event the order is cancelled or returned, the customer will be responsible for all shipping charges. In the event that an order is canceled but has not shipped, no shipping charges will be due but a restocking fee may apply. Since all of our furniture ships insured, if the piece is damaged we reserve the right to replace or repair the piece. Please see our No Questions Return Policy for more details.
We do not guarantee delivery dates. In the rare event that we do promise a delivery date, it will be noted on your invoice from us. If you do not have an invoice with a typed delivery date, you do not have a guaranteed delivery date and cancellations for that reason may have up to a 15% restocking fee and any applicable shipping charges..
When an option, we are happy to customize pieces or collections with special requests or colors, special order merchandise is custom made upon order and is non-returnable and generally non-refundable.
Leather Furniture Expo reserves the right to modify its exchange and return policies at any time.Top
Leather Color and Dye Lots
We are of course happy to send free samples of leather for the set you are interested in. Samples are for color purposes only and may not be representative for textures or thickness. They are loose pieces and have not yet been stretched and fastened to the frame. Leather has natural wrinkles, marks and scars which may or may not be apparent on our samples. Variations in color and texture are genuine and natural features of leather. We appreciate your understanding when ordering.Top
Floor Models and Scratch and Dents
Due to our volume in our retail location., we often have floor models or scratch and dents available for sale at great discounts. These pieces are sold as is and returns are not accepted on these pieces for any reason. These products are provided "AS IS" without warranties or conditions of any kind, whether oral or written, express or implied. Leather Furniture Expo specifically disclaims any implied warranties or conditions of satisfactory quality.
In some cases, manufacturer's warranty may still be in effect. Please confirm before purchasing and make sure that your invoice reflects what warranty is applicable. Top
Error Disclaimer
We make every effort to insure the accuracy in the data on the website, however we can not be held responsiable for typographical errors, misprints, or data entry oversights. If you do happen to see an error somewhere on our site, please feel free to report it to cs@leatherfurnitureexpo.com Top
How are measurements determined for furniture?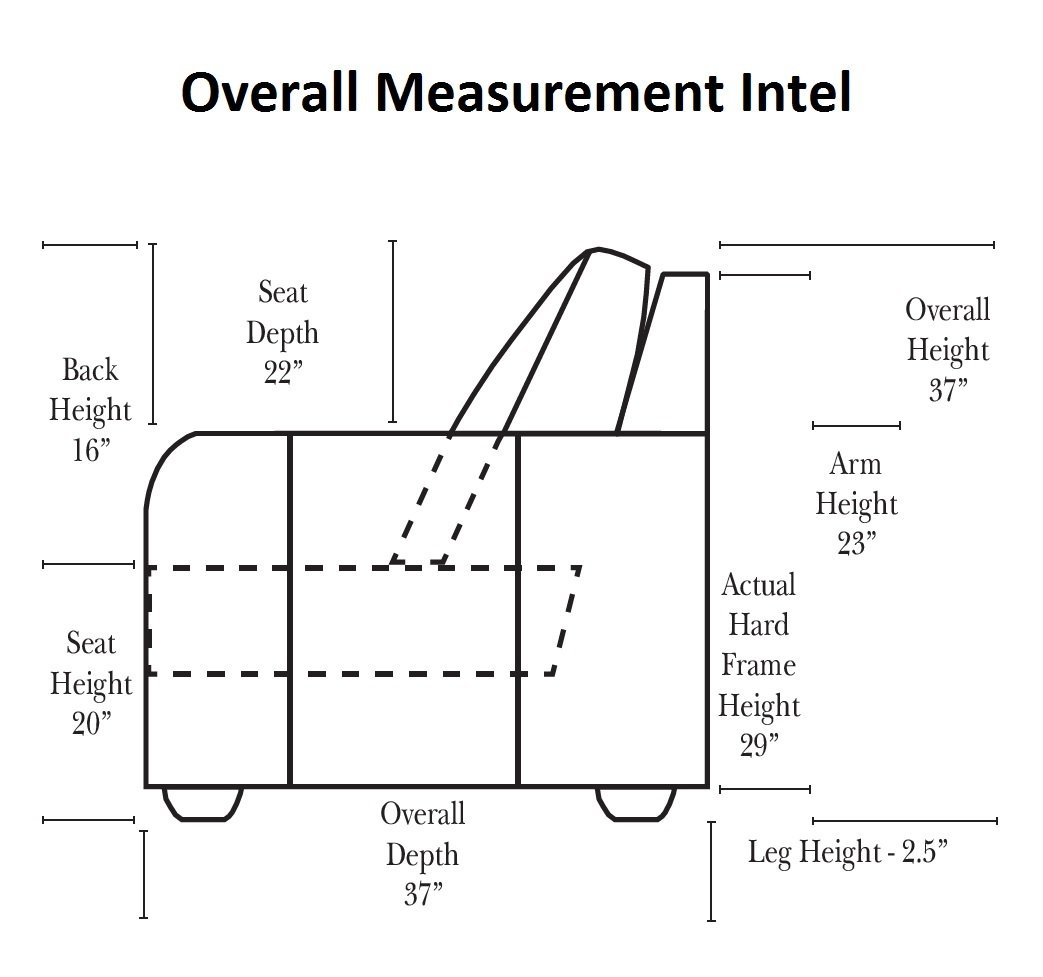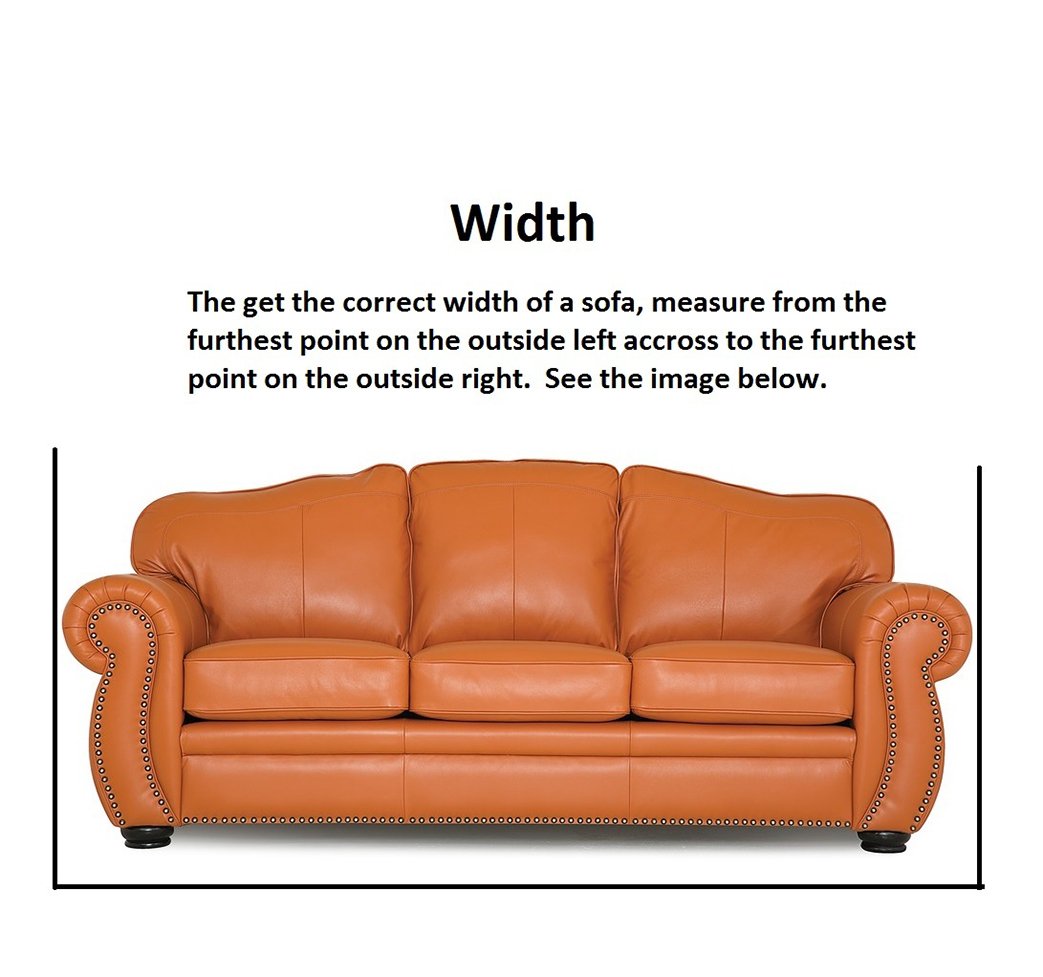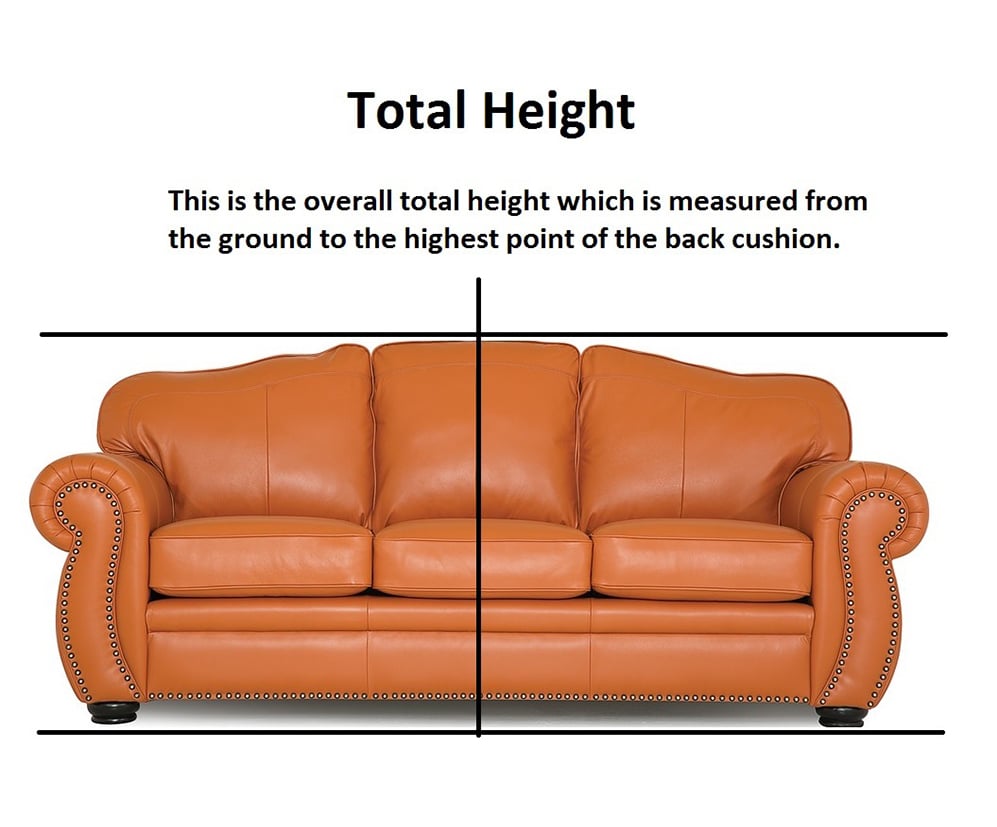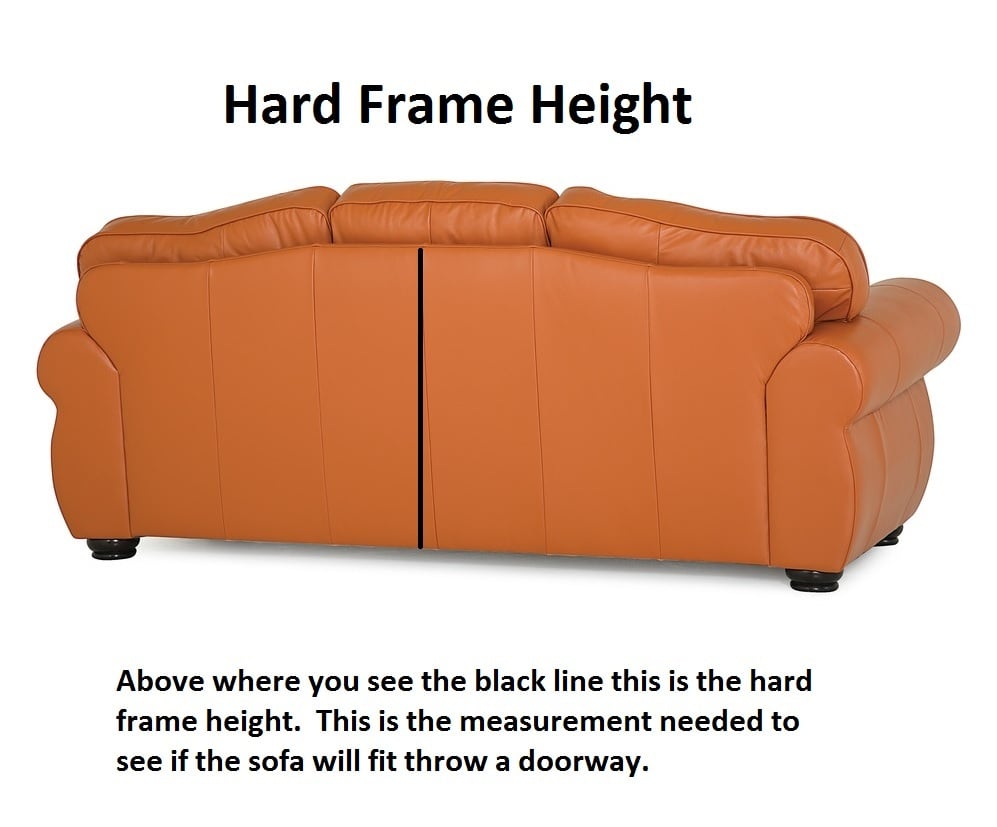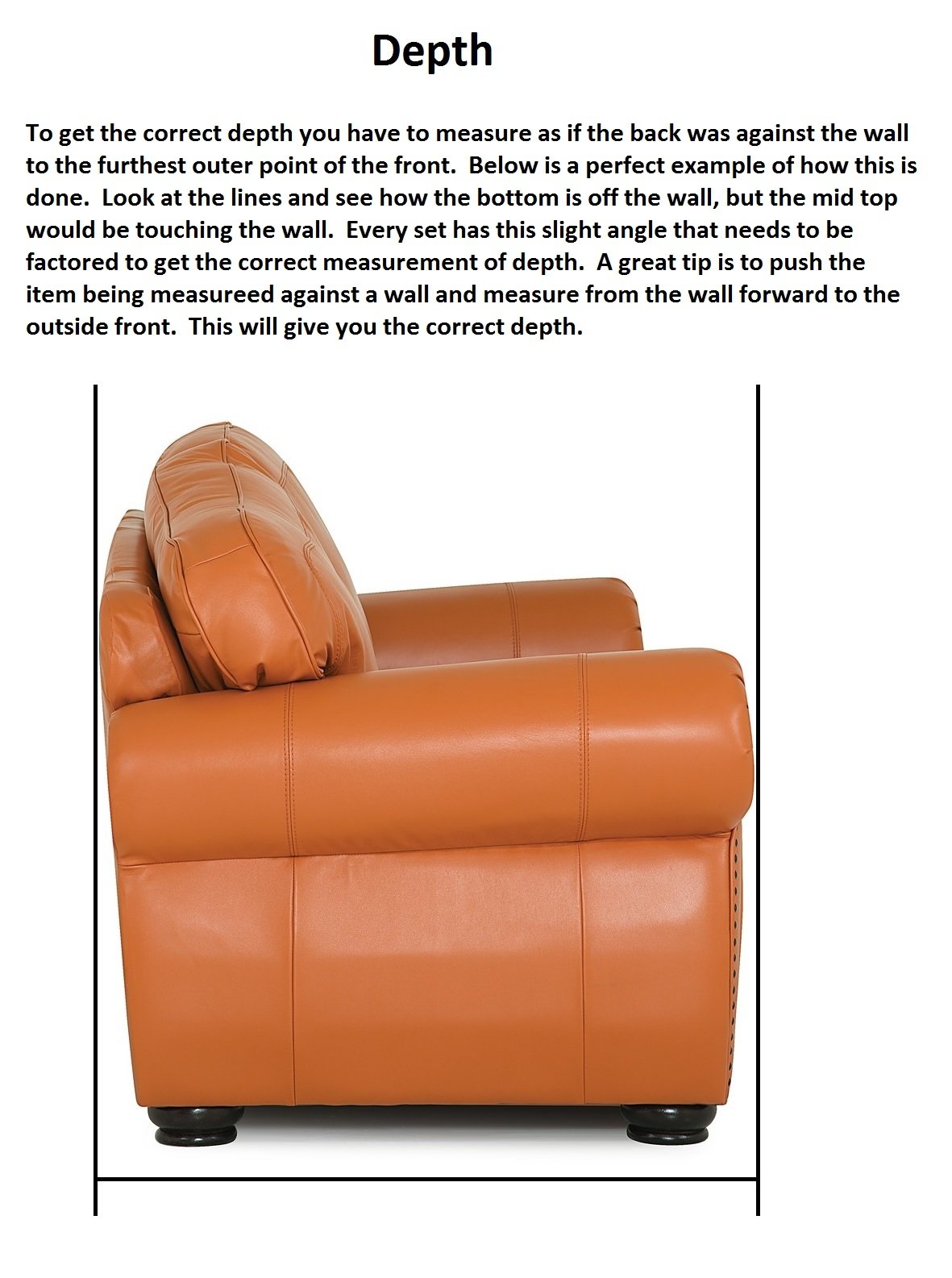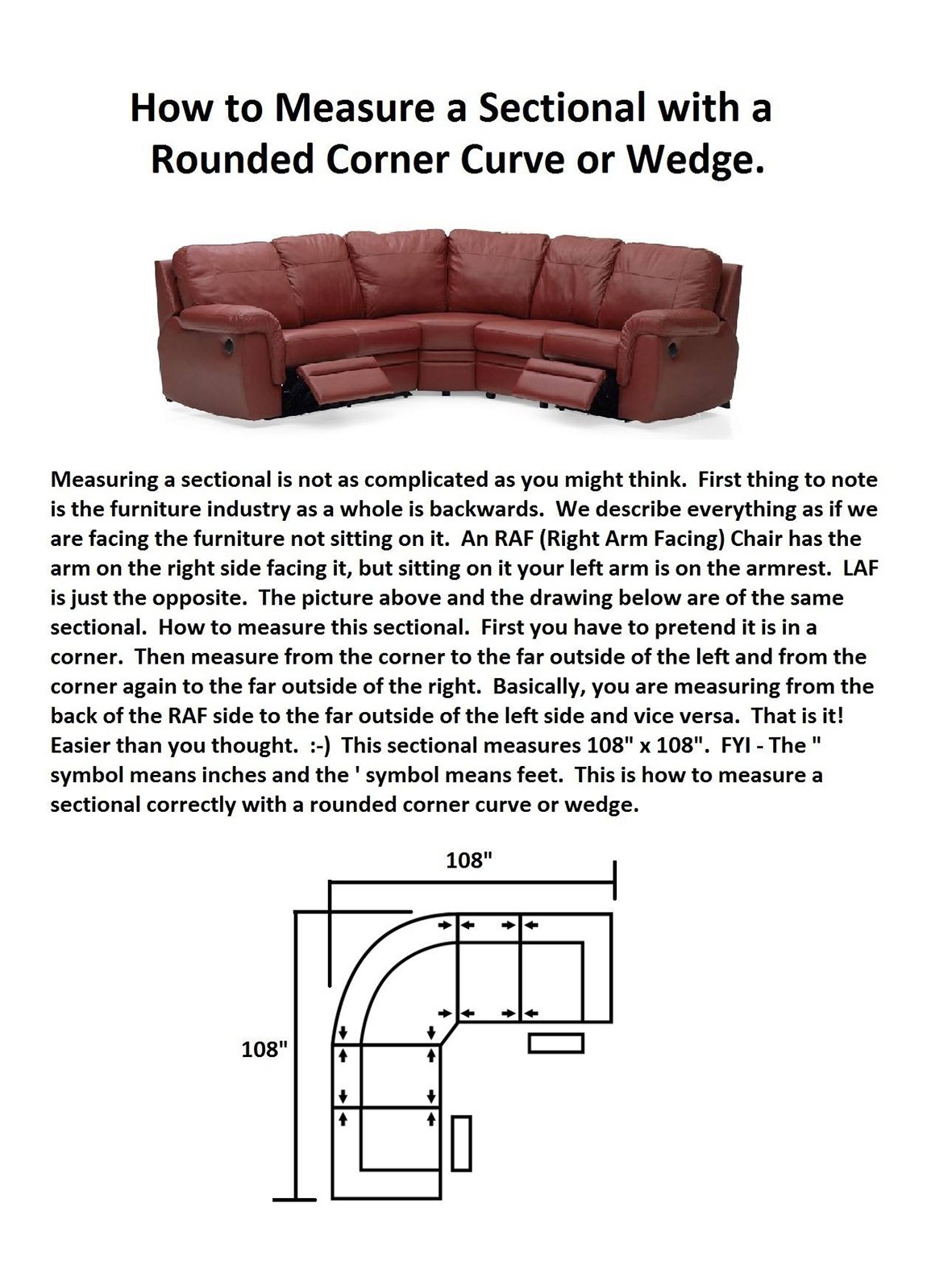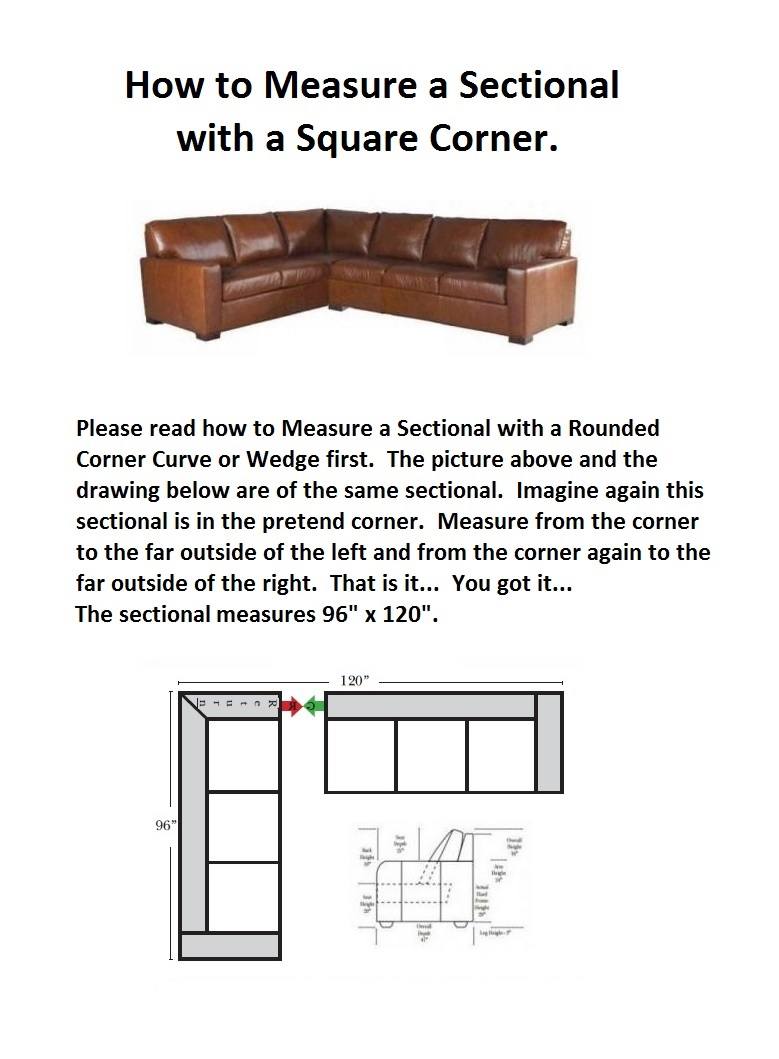 Measurements are taken from furthest point to furthest point. Another way to explain is to imagine you are building a box around the furniture; those are the dimensions we provide. All of our dimensions are provided directly from the factory that manufactures the furniture. Please be aware that with custom-built furniture, there can be variances of .5" to 1.5"; this is not an allowable reason for a return of goods.Top
Clearance
All items in clearance are sold as is and do not come with a warranty.Top