Worry Free Shipping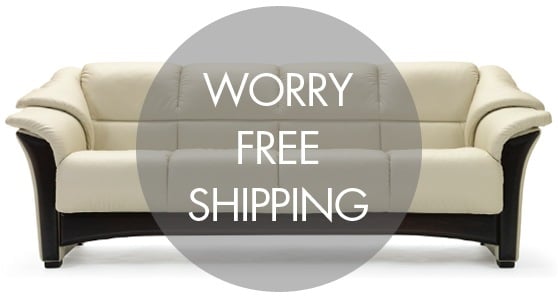 FREE Nationwide Shipping.
While most of our competitors charge for shipping, We include FREE white glove delivery with every order ($149 value).
When your furniture is ready to ship, we will email you shipping details so that you can follow your shipment all the way to your home. We'll send a premium white glove furniture delivery service to deliver your order on your pre-scheduled date. A professional delivery team will bring your furniture into the room of your choice and remove all of the packing materials from your home.
All Items are factory packaged and brand new.
Where do you ship?
We can ship anywhere in the 48 contiguous states.
No Worries Damage Protection
What happens if something gets damaged on its way to you? We get asked that questions every day and one of the many reasons people love Leather Furniture Expo is that we do something that almost no other online store or national retailer will do: We take care of everything for you.
Our furniture all ships very well packaged and we use the best transporters in the country to make sure your furniture arrives safely. However, accidents can happen and because of that we insure EVERY single shipment at NO ADDITIONAL CHARGE to you. Even more important though is that in the very rare event that something happens, we have dedicated specialists to ensure the problem is resolved for you. If you read the fine print of most national retailers, in the event of product damage YOU are required to file the claim with the shipping company, arrange the technicians and inspectors and do everything else necessary to resolve the issues. At Leather Furniture Expo, WE will do all of the paperwork, arrange the technician if needed to come your home and coordinate shipping if a replacement is needed. This is one of the best reasons to buy from Leather Furniture Expo; we are furniture specialists who are with you every step of the way!
One advantage this gives you is that the shipping company will call you 24 hrs in advance to schedule a delivery time since they will need you to be there to sign for it. We do this not because we are expecting damage but because it can happen. We are very fortunate to have a less than 1% damage rate and over 90% of those are minor issues that can be corrected right in your home by a qualified and experienced technician. In the event that a piece does get damaged, it is very easy to take care of.
When the furniture arrives, be sure to inspect it before you sign for it. This is especially true if you notice any damage to the packaging.
In the event there is damage, follow these four simple steps:
Don't panic; it's insured.
Keep all of the good pieces.
With the driver still there, call us at 800-737-7702 and we will help you determine if the damaged piece should be kept with you or sent back. Please do not make this decision before speaking with us.
Sign the Bill Of Lading, making sure to notate the specific damage. State only the facts of the damage.
It is very important that you follow these steps so that we can give you the highest level of customer service.
In the rare event that there is hidden damage that isn't seen until after the driver leaves, please contact us within 24 hours of delivery to report it. This gives us time to file the claim. Most delivery companies have a 48 hour window to report hidden damage, so it is important that we follow their guidelines.
Leather Furniture Expo reserves the right to attempt to repair or replace manufacturing defects and freight damage at our discretion. Since all of our furniture ships insured, if the piece is damaged we reserve the right to replace or repair the piece. If you do not desire a replacement or repair, you may return it using our No Question Return Policy.
We will accept claims for furniture with hidden damage with proof of damage (i.e. pictures, video, etc) within 48 hours of the receiving date.
Any and all manufacturing defects including but not limited to dye lot issues must be reported within 14 days of receipt of furniture.
Leather Furniture Expo is not responsible for the repair or exchange due to consumer abuse. Examples of consumer abuse are slices/ink marks/cigarette burns/scratches or scuffs on pillows and inner areas. All furniture is inspected thoroughly prior to shipment and heavy-duty special leather furniture packaging is used to prevent damages.
We do not guarantee delivery dates.